If you're looking to buy a home in Riverside, Florida, you've come to the right place. When it comes to buying a home in Jacksonville, AgentChase is your one-stop shop for finding homes for sale in Jacksonville, as well as all the surrounding areas. Here's how you can find the perfect Riverside Florida home.
Riverside Florida Home Search Tool
Buying a new home is never easy, but it sure is fun! In all seriousness, it can be a challenge. How many times have you had your heart set on a home only to find out later it's under review? This happens a lot, so getting to new home listings is a priority. Thanks to our awesome home search tool, you're going to get instant access to all new Jacksonville home listings.
While we're talking about buying a Riverside FL home now, our home search tool can be used in any surrounding area.
Now, here's how to start searching for your new Riverside home.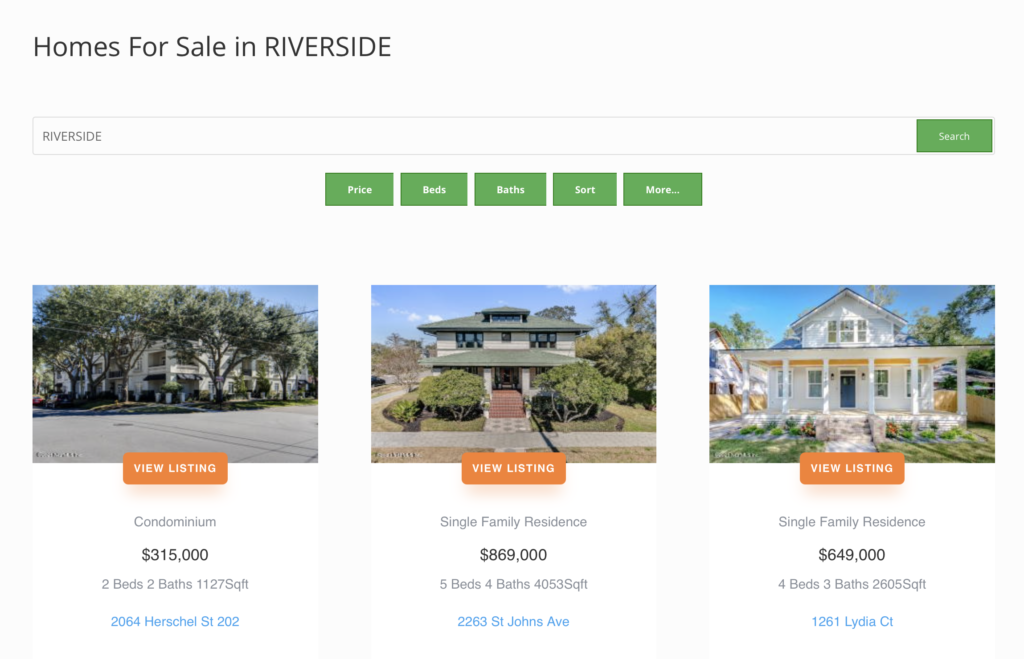 Above, you can see our home search tool in action. Finding home listings is simple, all you have to do is type in the specific location you want to search, then press the search button. Just like that, you're going to get home listings loaded. When you see a home you want to review, just hit VIEW LISTING.
Search Riverside Florida Homes By
Our Jacksonville home search tool has a wide range of features that allows you to find the exact home you want. You'll going to have the opportunity to focus your home search by using:
Price
Highest Price
Lowest Price
Beds
Baths
That's just the basics, our home search tool goes a lot deeper than that, allowing you to also search by:
Sqft
Year Built
Garage
Pool
Fenced
Waterfront
Property Type
Start Searching For A Riverside FL Some Today
Here's the link to our Jacksonville home search tool.
You can search for homes all over Jacksonville, including Riverside.