If you're looking for homes for sale in Jacksonville, you've come to the right place. First off, congratulations! Buying a new home is exciting! However, it can also be stressful, especially for those of you that have never bought a home before. Have no fear though, we're always here to help and our Jacksonville FL home search tool makes searching for a new home easier.
Browse New Jacksonville Florida Listings
Thanks to our Jacksonville home search tool, you can use our tool to check new listings for homes in Jacksonville, Florida, as well as homes for sale in the surrounding areas. Using our tool is simple and easy, but we'll walk you through the process anyway.

To get started, just go to the top menu and select SEARCH HOMES.
This is our home search tool! We know how important it is to access brand new home listings when searching to buy a home. Our home search tool is always updated with brand new listings.
Search Jacksonville Homes For Sale
Now, to start your home search, just enter the location you want to view homes from. By default, our search tool displays homes for sale in Jacksonville. However, our tool can also search home listings in all the surrounding areas.
Just type the city you want to select and hit SEARCH.
Viewing home listings is simple and easy also, just click on the home you want to view. Click on VIEW LISTING.
For this example, we're going to select the first home listing above.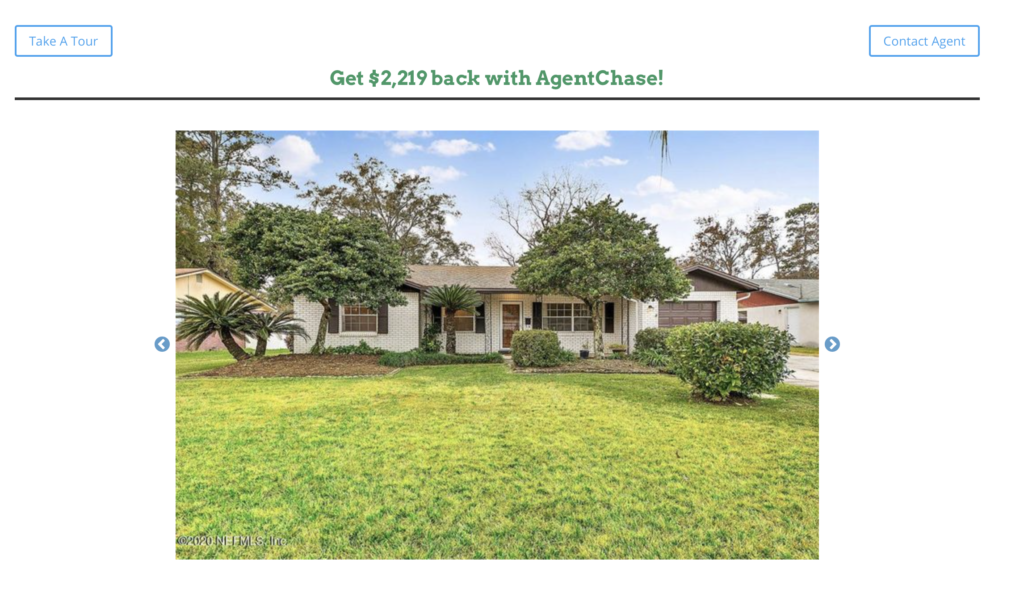 Now, we get a lot of questions about the cash back that shows at the top of most home listings. We give you cash back if you go through our real estate agency, so it's a win-win when you work with AgentChase. If you want to learn exactly how that works, be sure to contact us.
Above, you can tour this home by selecting TAKE A TOUR.
Here, you can also view all the images from the home.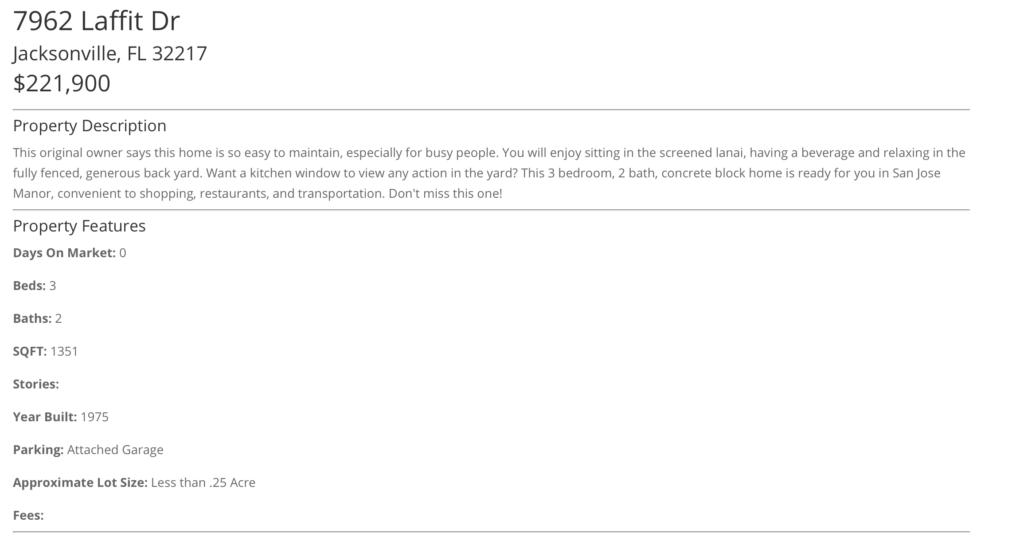 Each home listing also has details, such as beds, baths, year built, acre size, and many other points.
If you want to learn more about a property you see or if you have questions, just call 904-513-8575. Don't forget to ask about our cash back option when you buy your Jacksonville home.
Also, our home search tool can be used to browse homes all over the Jacksonville area, start your home search here. Type in your search location and get started now.